North Cape (Nordkapp) to Innsbruck
Summer2013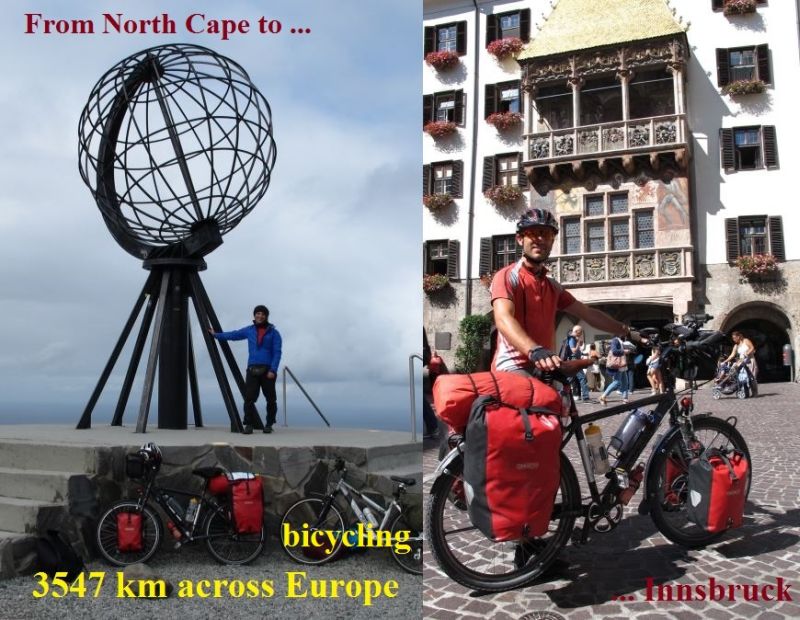 Since a long time already I had the dream of cycling from North Cape back home to Innsbruck. "Cycling from north down south is of course much easier then cycling from the south up north – because north is up and south is down you just need to let it go" was the most made joke of people once I told them from my 2013 summer plans. It was indeed a little easier because you start at North Cape on at the elevation of 300m. So, why North Cape? Just because it's such a well know nostalgic point far up north which so many people already chose as a travel destination. Pretty good to do some showing off.
Reaching North Cape was much easier for me then coming back!
<>more markers
red

= Ferry: Gothenburg (SWE) to Kiel (GER); other colours = cycling track per week
I think this is the cheapest way to do it: First book a flight to Alta, which is usually the cheapest. Then take the Bus from Alta to Honningsvåg (390 NOK = 50 €) and then from Honningsvåg to North Cape – Nordkapp (165 NOK = 20 €), all prices include the bicycle transfer. A little advice for the flight: You have to put the bike and some equipment like tent … in a box (max. weight 32 kg), then put lots of duct tape around it to protect it. The airport guys don't really take much care about it. I had to fix my box in Oslo, otherwise it would all have been falling into its parts. In Alta then I had to wait for the bike till late at night, because they didn't deliver it in the same plain where I was on. If you arrive in Alta late, just set up your tent and sleep in the wood next to the airport and then take the next bus in the morning.
A short video from the trip, check it out (by clicking in the picture)!
Unfortunately I didn't prepare much for this trip so I didn't even know how much money I should withdraw at the ATM. So I asked the lady at the book store and according to her information 1 Euro is about 80 Norwegian crowns, which was not true and leaded to the effect that I was very rich afterwards, withdrawing ten times more money I calculated. Stupid me withdrawed half of my bank account in Norwegian crowns!
Cycling in Scandinavia
Scandinavia was good to cycle. Always something to see: Wildlife, lakes, fjords …
The roads are well maintained and especially in the north there is almost no traffic. Be prepared for wind, rain, the cold and lots of mosquitos. Distances are large, so after the first week I tried to go about a 100 km a day. From North Cape to Gothenburg (Göteborg) it took me 2350 km. If you can, do some training before going there. I had a rupture of my outer ligament in the right knee three and a half weeks before the trip, so I didn't even know if I could cycle and had no training at all. It worked out using a stabilizer for my leg, but still I needed some time to get into it and had to take it easy.
Cycling at North Cape
Most Cyclists I saw went up without luggage, because they checked in on the camp site northwest of Honningsvåg and then cycled up about 30 km to the cape and afterwards back. The conditions on the cape are pretty harsh. Weather was wet and cold and you have no wind protection by any kind of vegetation. The wind is usually coming from the northwest. I recommend taking the best, stat of the art, equipment you can get! Everything must be completely waterproofed and should keep you warm as well. Traffic is ok up there, drivers watch you and some of them are cheering you once going up one of the climbs. The two lane road goes up and down with a final climb at the end. On the cape they charge visitors for entering, but not the bicyclists, a little credit because of us producing less CO2 then the camper vans I guess. Once leaving North Cape Island you have to pass through tunnels. The first one is right after Honningsvåg and no problem, can be even good cycling inside, it protects from rain and wind. But the second one leading to Norway mainland is a bit touhg. The 6870 m long Nordkapp tunnel runs under the sea level so you need to go down on – 212m and climb up again. It is lighted but pretty noisy down there.
Cycling in Norway was great though I was well rested and enjoyed the first days along the cost, the scenery was great and every once in a while the sun came out. I decided not to go back to Alta and took the road (the famous E6) further south to Lakselv and later into Karasjok. As soon as I left the shoreline, a new problem popped up: Mosquitos! And it was a real problem, small flies, biting mosquitos make you cycle all the time. No nice time taking breaks anymore or sitting outside at night at a fire, forget it. You either: Cycle, eat while walking away from bugs, or set up your tent, flee inside, kill everything inside the tent and then rest till the next day. Generally you can say the further you go north the more mosquitos are around. For going to the toilet at night, you should have an extra empty bottle and use that one (training required) because going outside is not possible. Up in the north I sometimes rented a small lodge on the campsite, this is really nice for staying overnight or once you want to take a day off from cycling.
But over all I can say that the cycling in Norway was the most scenic and I enjoyed it a lot. Coming into Finnland, just for two days, the surrounding changed. Trees got higher and the landscape was smoother and widespread.
Lunch recommendation: On the Border from Finnland to Sweden in Kaaresuvanto right next to the bridge, you can enjoy a good all you can eat cyclist lunch buffet for less than 10 €!
European route E 45
On the opposite of Kaaresuvanto (FIN) you find the Swedish town of Karesuando. This is the starting point for the E 45 (European route E 45) which leads all the way through Europe till down to Gela (Sicily – Italy). I was planning to stay on that road till Gothenburg (Göteborg), which I did most of the time. The road is two-lane and all is paved, exept of constructions yards which can be up to 30 km long. The Altitude is between 200 and max. 500 m, the climbs are moderate up to8% not more.

Generally you can say: The further north, the less intense is the traffic. Most of the traffic in Sweden goes down to the shoreline and along the Gulf of Bothnia (E 4). Traffic was more intense north of Gallivare (E 45/E 10), around Östersund, and north of Mora/Orsa. You should detour north of Mora/Orsa to the east (adds about 30 km) on road 296 and road 301. I recommend staying on the campsite in the village of Los, a very nice place on a lake with good facilities. Another nice detour I did was north of Karlstad along road 62. They used an old railway path to make a cycling path (Klarälvs Banan) out of it which was good to go on. Also around Lake Vänern the traffic is very intense on the E 45. Taking other options here is no problem if you organize yourself a map of the area.
Accomodation/Camping and Food
In Sweden, Norway and Finnland free camping is no problem and I did it most of the times. Sometimes there were no camp sites around and sometimes camp sites can be pretty expensive (up to 25 € per night). In bigger towns (for example Östersund) better don't go on campsites, going to youth hostels can be cheaper. In Östersund I found a nice place called "Multi challenge" which is an entertainment center with a hostel added. As I mentioned before staying on lodges on the camp sites is a nice thing to do. Perfect to rest, cook and maintain your gear.
There is a nice Campsite (Vojmåns Husvagnscamping) 25 km north of Vilhelmina on a river next to E 45. Kenneth and Rita are running the place. Kenneth and I were talking about the flags in front of his campsite and I asked him where the Austrian flag is, which I couldn't find. He mentioned that some Australians asked him the same about their flag and they sent him one from Australia. So I had to promise him to send an Austrian flag. If you ever stay there spotting a red whit rad flag, it was sent by me from home.
For food: Look out for lunch buffet, they serve good Swedish kitchen (dumplings, meat, potatoes …) and most important for cyclists, eat as much as you can! I tried some Sami style prepared salmon which was very good. The salmon got fished out of the river next to the restaurant. The place was called Jergul Astu and is located on the road (R 92) between Karasjok and Kautokeino in the Finnmark (NOR).
Daily routine
I adopted my "lifestyle" to nature, because I had to. The alarm clock rang me out at 05:00 am in the morning. I had breakfast, put the tent together and got everything ready for cycling around 06:30 am. Then I did cycle till 09:00 am and stopped for a second breakfast. You should eat every one and a half, two hours. I had to start that early because after 9 am the wind started and got more intense after 11 am. When I was cycling from Östersund down to Gothenburg (Göteborg) I had head wind for over a week slowing me down significantly. At about  one o clock I had lunch and by then I tried to have cycled two thirds of the day. In Germany I slept longer because the climate is more calm.
In the north you can cycle all day because it's always bright. I met cyclist who were on the road for hours and then slept during the day. I still slicked to the watch to keep a daily rhythm. In Lakselv (NOR) I met two Estonians who were together with a German cyclist their running joke was: "We will cycle until it gets dark"
About the people
The area up north is called Finnmark (NOR) and Lappland (SWE). Lots of native Sami people live there. Most of them adopted the modern lifestyle, but some stick to the old tradition of reindeer herding. Spotting reindeer is pretty easy, they are around everywhere roaming freely. If you talk to the Sami they are open to let you know more about their culture and lifestyle. A nice fact is also that lots of people speak English in Scandinavia. Finnisch people were more quiet but very helpful. I asked two guys for camping they showed me a spot and later on one of them followed me with the motorcycle to see if I found the right place. He didn't go off to have a chat, just realized that I set my tent up in the right place nodded his head and took off again.
The Swedisch people were very nice and communicative. If you stop somewhere they come and talk to you soon. On North Cape for example I met Marianne a nurse from Sweden, she told me lots of stories about Scandinavia and we experienced North Cap and had lots of fun together.
Or once I stopped in the shade of a farmhouse. A Swedish lady came from the other side of the road and brought me fresh water and some fruits to eat. Asking people about products in the supermarket could end up in having a third breakfast and an informative conversation that Jamtland (Jamtlands Län) is not part of Sweden, it's a own country with its own president. I also had a funny conversation while (hanging out waiting the rain to disappear) with a very old Swedish guy about distances to places in the south, he used the cashier girl from the supermarket for doing the translation work.
Important to know is that Swedish people give distance information in Swedish miles. One Swedish mile is 10 km!
One night I was too avaricious to afford myself a campsite so I continued cycling. It got late so I asked a lady if she knows a place to camp and she invited me to the home of her daughter's family. They were building their own house (Earthship Hällekil) with the help of not already arrived volunteer workers. So I ended up sleeping in the tents which are prepared for the workers and having dinner with Emma and Magnus and their wonderful kids Alvin, Elodie and Malva. This was really a highlight which I had the luck to experience.
Ferry from Gothenburg (Göteborg) to Kiel
The ferry takes you overnight from Sweden to Germany, the ride out of Gothenburg harbour was amazing!
Weather info
Weather and wind are one of the most important influencing factors once you cycle up north. A very useful source of information is this this page: http://www.yr.no
It's a Norwegian Page but you can type in any city in Scandinavia and northern Germany for accurate information about precipitation and wind strength/directions.
Cycling in Germany and Austria
After crossing through the wilderness of the north for 5 weeks, I really enjoyed coming into Germany. The traffic in Germany was of course more intense. But there are cycling paths all over the place, most of them on an extra lane next to the road. People were very friendly. When I was standing around navigating, a lot of times people asked me if they could help. By the way thanks to the two tour guides who helped me find the way in Franken!
In Germany I had two mountain ranges to cross. The first one was the Harz Mountains in the south of Lower Saxony and Saxony-Anhalt. I was cycling through the eastern part and had to climb up to about a 400 meters. The second mountain range was the Thuringian Forest in the south of Thuringia (Thüringen) with climbs up to 800 meters. In conversations with the locals, they often tell you stories of former times. Especially in the east of Germany, people tell you about live in a communist country.
Other cyclists
I met a few other cyclists.
Lorenzo from Milan Italy, he was cycling all the way up to North Cape from Sevilla (Spain). Or one Italian father with his son on a tandem bike, also cycling from Italy to North Cape. Janice and Paul from Canada started in Norway and want to go down to Istanbul taking their time through Europe. (Check out their blog if you want to know more www.2lovecycling.com)  And in the middle of nowhere  I met Simon from Schladming/Austria. The two coolest, but worst equipped cyclists I met once crossing the border from Germany to Austria. Both were on their way to the Chiemsee Reggae Festival doing 15 to 20 km/day, just look at the picture and you know why. By the way, thanks for the beer guys!
Statistics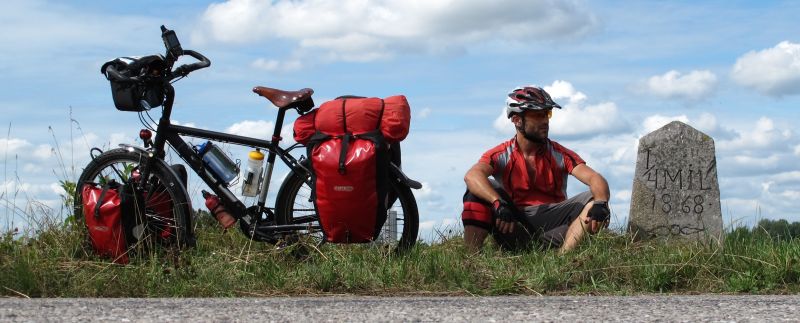 | | | | | |
| --- | --- | --- | --- | --- |
| Day | Distance | Cycling time | Country/Road | Locations |
| 1 | 25 km | 2 h 40 min | NOR / E 69 | North Cape/Nordkapp |
| 2 | 53 km | 4 h 15 min | NOR / E 69 | |
| 3 | 67 km | 4 h 56 min | NOR / E 6 | |
| 4 | 92 km | 6 h 36 min | NOR / E 6 | |
| 5 | 36 km | 1 h 56 min | NOR / E 6 | Karasjok |
| 6 | 93 km | 6 h 50 min | NOR / 92 | |
| 7 | 40 km | 2 h 30 min | NOR / 92 and 93 | Kautokeino |
| 8 | 110 km | 6 h 30 min | NOR and FIN / 93 and E 8 | |
| 9 | 98 km | 7 h 03 min | FIN and SWE / E 8 and E 45 | |
| 10 | 91 km | 5 h 39 min | SWE / E 45 | |
| 11 | 85 km | 6 h 42 min | SWE / E 45 | |
| 12 | 117 km | 7 h 25 min | SWE / E 45 | |
| 13 | 112 km | 7 h 17 min | SWE / E 45 | Arvidsjaure |
| 14 | 12 km | 1 h 01 min | SWE | Rest day Arvidsjaure |
| 15 | 117 km | 7 h 05 min | SWE / E 45 | |
| 16 | 88 km | 5 h 39 min | SWE / E 45 | |
| 17 | 121 km | 7 h 15 min | SWE / E 45 | |
| 18 | 83 km | 5 h 07 min | SWE / E 45 | |
| 19 | 56 km | 4 h 23 min | SWE / E 45 | Östersund |
| 20 | 11 km | 58 min | SWE / E 45 | Rest day Östersund |
| 21 | 95 km | 5 h 25 min | SWE / E 45 | |
| 22 | 112 km | 7 h 14 min | SWE / E 45 | |
| 23 | 99 km | 6 h 13 min | SWE / E 45 | |
| 24 | 105 km | 7 h 13 min | SWE / E 45 | |
| 25 | 114 km | 6 h 25 min | SWE / E 45 | |
| 26 | 118 km | 7 h 38 min | SWE / E 45 | |
| 27 | 105 km | 7 h 01 min | SWE / E 45 | |
| 28 | 84 km | 5 h 28 min | SWE / E 45 | to Gothenburg (Göteborg) |
| 29 | 9 km | 46 min | SWE | Rest day Gothenburg |
| 30 | 0 km | 0 min | SWE | Rest day Gothenburg |
| 31 | 2 km | 14 min | SWE | Ferry (Gtb – Kiel) |
| 32 | 104 km | 6 h 04 min | GER | |
| 33 | 104 km | 6 h 35 min | GER | |
| 34 | 101 km | 5 h 29 min | GER | |
| 35 | 97 km | 6 h 41 min | GER | |
| 36 | 113 km | 6 h 36 min | GER | |
| 37 | 11 km | 54 min | GER | Rest day (near Erfurt) |
| 38 | 130 km | 7 h 14 min | GER | |
| 39 | 116 km | 6 h 25 min | GER | |
| 40 | 104 km | 5 h 52 min | GER | |
| 41 | 100 km | 6 h 47 min | GER | |
| 42 | 101 km | 6 h 29 min | GER | |
| 43 | 102 km | 5 h 33 min | AUT | to Innsbruck |
Statistics – North Cape 2013
Statistics are nice to have and help you plane trips at destinations under same conditions. I usually calculate 500 km per week in Europe. This is a nice balance between: Cycling, sight seeing, resting, doing the "house work" …
Total days: 43
Cycling days: 38
Rest days: 5
Total km: 3547
Total cycling time: 226,05h = 226 h 3min = (9d 10h 3min)
Average speed: 15,7 km/h
km/cycling day: 92,2
km/day: 82,5
km/week: ca. 580 km