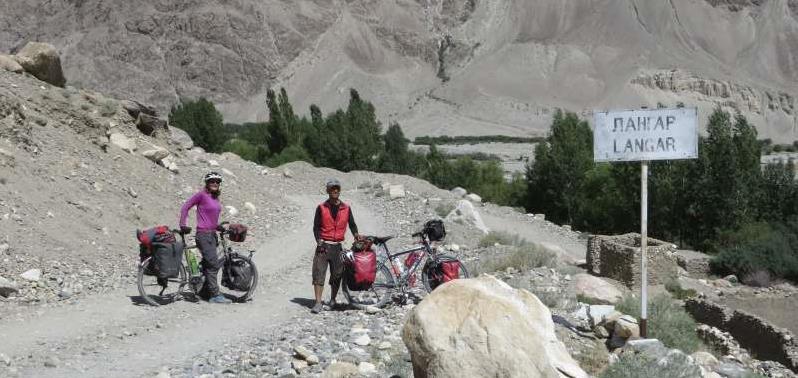 So far the toughest cycling on this trip was Bolivia. Concerning this I have a new favourite now: "Tajikistan". Height, climate, food quality Tajikistan beats Bolivia or at least equals it. It was almost the same height, similar climate and the food was almost as bad. A perfect country for a new adventure!
Times are tough but good company was at hand. Already in Kirgizstan I ran into Eleonore, a French cyclist travelling since Vietnam, also heading towards Tajikistan. We both wanted to cycle the magic sounding "Pamir HWY". The Pamir HWY runs from Osh to Dushanbe, through one of the most remote areas of central Asia and has several over 4000m high mountain passes. There are a few routes through the Pamirs, the longest leads you along the Wakhan corridor (Wakhan valley) about 700km along the Afghan border. That's a very beautiful stretch with wide views over to Afghanistan and the Pakistani mountains called the Hindukush in the background. Eleonore and I shared same ideas about where to travel and moved same speed, so we decided to continue on that adventure together.
It was indeed an adventure. The first 4 days after starting from Osh (Kirgizstan) have only one motto: Climb, climb, climb. After four passes we reach the Kyzyl which is the border of Kirgizstan and Tajikistan. Then we were on a high plateau which made cycling easier, but sleeping much harder. The province is called Badachshan and is with its 200 000 people in an area as big as Belgium very low populated. We cycle through wide open landscape surrounded by up to six, or even seven thousand meter high snow covered mountains. Pik Lenin was unfortunately hiding behind thick clouds so I could not spot it. We camp out in the wild, cook more or less delicious food and fight against the strong winds together. People are helpful and friendly on the way. One time we ask a woman if we could sleep somewhere around the house in our tents. She waved us in and prepared a bed for us, to take a nap. Later we camped outside her house, which was no problem at all. We prepare dinner and enjoy a save spot for a night. There are not many towns with support on the way. In small villages you ask for a "magazine", which are small shops with very basic shopping options. Sometimes they just sell cookies, candy and some rice. In the two bigger towns Murghab and Khorog we explore the bazar and stock up with noodles, sweets and fresh fruits. Unfortunately I get sick, seems to be a part of the Pamir adventure. High fever forces me to stop and recover.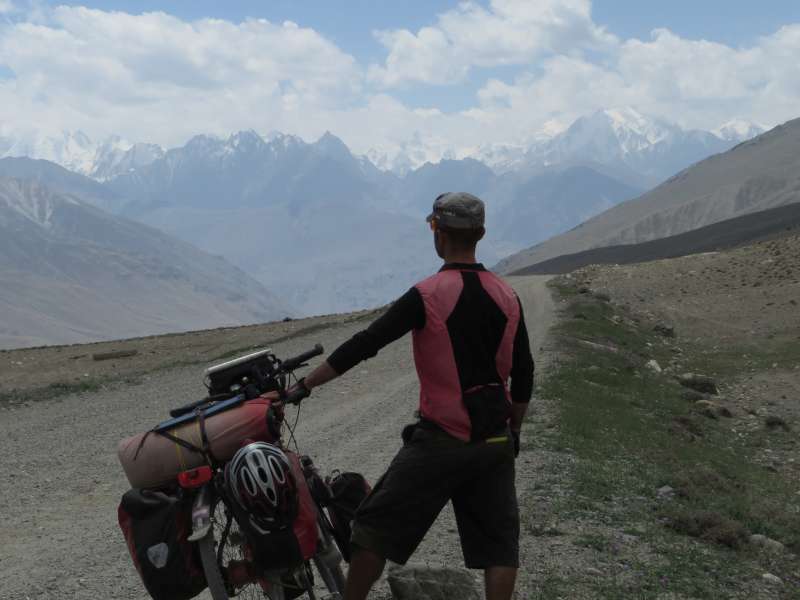 Eleonore is cycling on, she needs to get into Turkmenistan and is slowly running out of time. After a few days rest I also continue to Dushanbe, the capitol city of Tajikistan. Temperatures climb up to 40° and I am happy to take a rest for a few days enjoying the amenities a big city has to offer.
Check out this video, Eleonore produced: