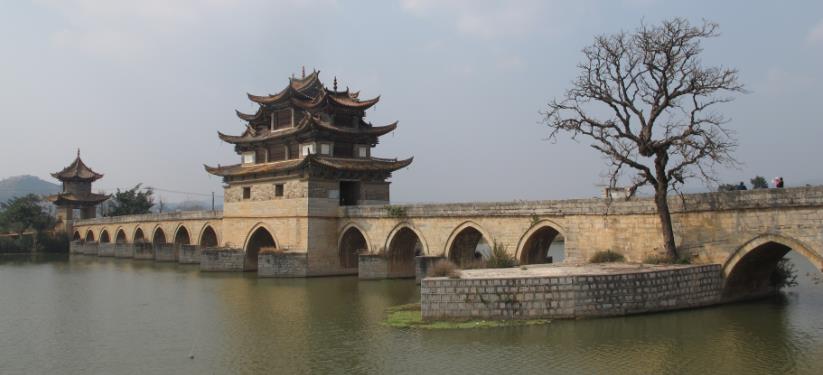 Just wanted to give a little report about my trip through the south of China. More specific the provinces Yunnan and Sichuan. After climbing a lot in Laos and Vietnam it continued the same way in China. My first cycling stretch into China was flat though, over the foot bridge from Lao Cai (Vietnam) to Hekou (China). I got immediately stopped by the military "No cycling!". After pushing my bike over the border river everyone was nice and helpful at the immigration counter. They helped me getting my visitor card and after discussing over my passport for about 10 min, I had the desired stamp in my papers and off to the exit and officially into China. Hekou is still down in the valley, shortly after leaving the city you have to start climbing again. The next big cities, also the capitol city Kunming, are up on a plateau at about 2000m. My first impression about china was how advanced they are compared to their southern neighbours. I tried to get cleaning liquid for my contacts and could not find any in Lao or Vietnam. In China I got a bottle right away.
My path led northwest to a "small" town named Jianshui to meet up with Kun. Kun is running a little hostel in town and is hosting touring cyclists (www.warmshower.org). I enjoyed a warm-hearted welcome by Kun and his friends. We explored the surrounding and just enjoyed life. It turned into a running gag when I repeatingly said that it might be raining tomorrow, so I will go the day after tomorrow. But finally the day after tomorrow came somehow and my bike brought me to Kunming the capitol city of Yunnan. I stored my stuff there and did a side trip to the historic town of Dali. Again a good time, with good company. Dali has a historical centre. My favourite was the traditional German bakery, for coffee and cake. Back to Kunming, with its 6,5 million people, not a bad size city, I got organized for a 12 day mountain stretch up to Chengdu.
The landscape was beautiful. The mountain people, I think a minority, must settle here for generations already. I saw terrace fields and farms till high up in the mountains. People must live there without electricity and road connection. Unfortunately I could not communicate. Most of the days went pretty well for cycling. But I had big problems on 213 leading north. There are road constructions everywhere. I met two Chinese architects and they told me about an earthquake two years ago which destroyed many buildings and made a complete restoration of the road necessary. Sometimes you can just sneak by next to the trucks and baggers but many times they are completely blocking off the road. Waiting is not the way to go. Sometimes they close the road for hours. I would have lost too much time. So I always pushed the bike till the bagger guys saw me, took of the front panniers and showed my intention to pass by. Then walked twice, carrying bike and bags two the other side. It felt like "Prince of Persia" or "Lara Croft" (if that rings a bell) sometimes.
The last days into Chengdu were relatively easy to cycle. I expected a lot of traffic coming into the 14,5 Mio people Metropolis. It wasn't that bad to be honest. Of course there is a lot going on, but streets are wide and cycling lanes are along every bigger road. Cycling lane means, a lane for cycles, scooters, three wheelers, pedestrians and sometimes also cars. Like in Kunming the outer city has one 30 story building to the next one. About 10 buildings, all the same style, form a community with about 15 000 people. Pretty crowded!
A few tips about cycling in china:
Navigation
Is a big deal. I used a map of whole china (bought before entering, getting maps in China is not easy) for overview planning. On the road I navigated with my phone. If you use google maps for navigation it won't work in China. All google products are blocked. So I used the app maps.me, which I always use anyway. You should download china before entering the country. Using maps.me (also called maps with me) all the maps are available offline, which is the most important thing. The app uses open street maps as a source and was very reliable so far. Still the mapping for China is pretty bad and lots of roads are not on the map. In case of doubt you can double check with satellite pictures from google earth, which is surprisingly working in China. If you still want to use google stuff, you have to install VPN (Virtual Private Network) before (!) entering China.
Overnight stays
Could be a problem, because some Hotels (Binguan, Lüguan) cannot register you at the police. I think some hotels, especially in the province, don't care about that. They charge you for a night, you take off the next day and that's it. Though it happened to me that after a hard, cold and rainy cycling day the owner of a guesthouse knocked on my door in the evening. We have to do the registration he said. Well, out of bed and down in the lobby to work. We could not fix the registration on the computer, so he drove me to the next police station to get that sorted. The police told me I have to change to another fancier hotel. That would have been a massive operation. All my stuff was hanging up to dry, it was late, I was tired and packing up and searching for another hotel at night would be a nightmare. I protested against that and they decided to help me. Took a copy of my passport (I'm sure for storage in the trash bin) and sent me back to my original guesthouse. I have to say though, everyone was very friendly and helpful. But it all has to be in its bureaucratic order.
In some hotels people might just send you away. That's because they are not allowed to host foreigners. Only the expensive hotels can register and host you. Still in many often remote places they will accept you as a guest. If they write your name in a paper list, you are fine. As soon as there comes a computer into play, you have to get ready to leave again. You can also ask the police where to stay. They are happy to help you but things can take a while then …
Communication
When travelling China speaking Chinese would be absolutely handy. Don't expect much English spoken. Some people speak a few words every now and then. I never experienced someone in a hotel lobby speaking English for example. At the beginning of my China trip a warmshower (something like couch surfing, just for touring bicyclists) dude named Kun wrote down a few useful words in Chinese characters for me. Stuff like guesthouse, hotel, coffee without milk and sugar and so on. Pointing on these characters helped a lot later on. For smartphone users, I recommend the app "Pleco". You can draw characters and translate them, or translate single words from English to Chinese. Comes in very handy if you need stuff like oatmeal (muesli does not exist in china, so I had to mix by myself). You just point on the translated characters and people help you. Pleco works also with sound if you want to improve your Chinese pronunciation. Just listen to one word for about a thousand times and then you might speak it right. The Chinese people all use the program Baidu, which is the Chinese version of google. It has a surprisingly good translation program. The whole hotel registration and police interaction was manageable with that thing.
Writing down stuff also helps…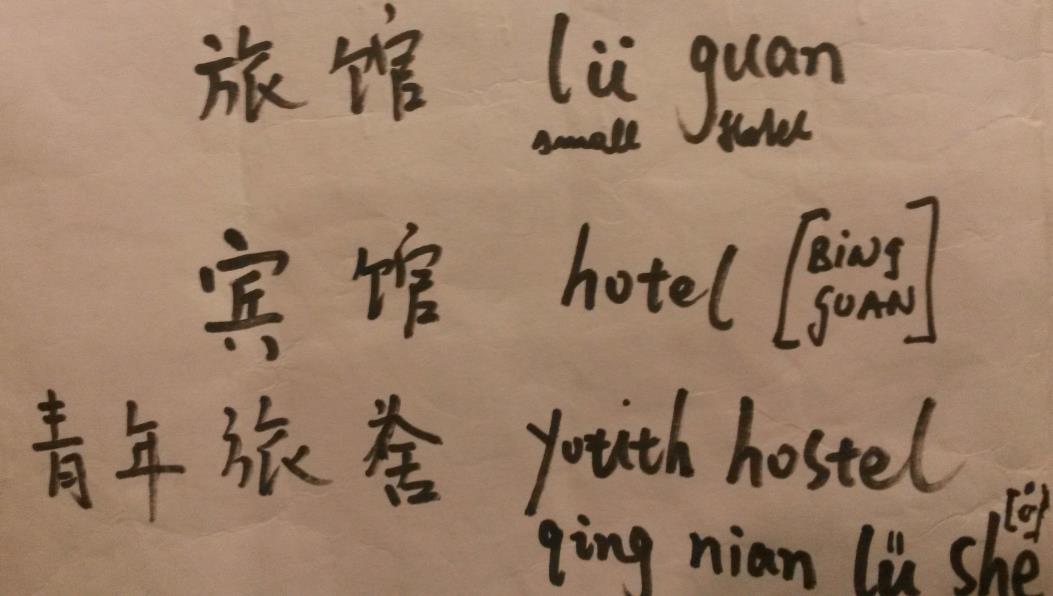 … this means "Black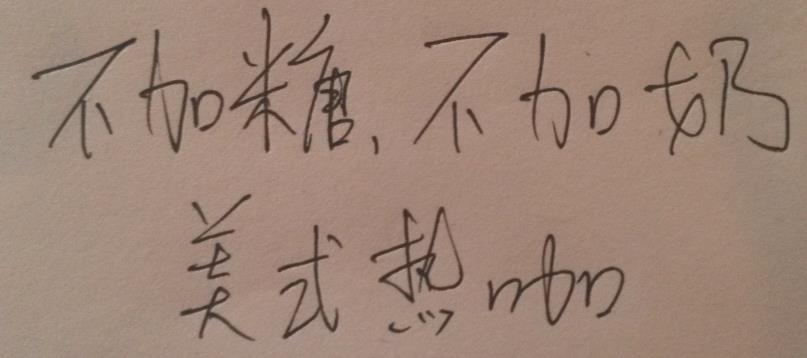 hot coffee without milk and sugar" …
Being a foreigner
You are a bit special, especially as a touring cyclist. You enter destinations where no other traveller ever shows up. Chinese people are very interested in the western culture and lifestyle. So get ready to do a few selfies and pose to some pictures. At home no one would register me walking through the streets, but in China people do. This could be annoying as well. You are looked at like being the spearhead of an alien invasion. Sometimes, out of groups, a, I call these people "shouter" is approaching you. One time a shouter tried to test ride my bike, which ended in a definite "meio" (no) from my side. Getting off my bike he could not lift the food high enough and started to tremble and almost fell.  I had to save the dude by grapping his arm. Of course I did that to save my bike from falling. I wander what would have happened if I just board his Mercedes and test drive it for a few minutes?
Culture shock
China is a different world (food, table manners, toilets/showers, privacy, noise …) but better experience for yourself. I was already in Asia for about half a year, so coming into China wasn't too much of a shock. One thing I will probably never get used to is the honking in traffic. I came into China from Vietnam, the noisiest country in the world. (Sorry Cuba I know you try hard, but you are second now). So China was already an improvement in that point.
Visa
Usually you will get a 30 days single entry travel visa for China. This visa can be renewed at the immigration for another 30 days. Renewal might take a few days, so your total number of days will be below 60 days, depending on how long the renewal process takes. If you plan your trip ahead, doing bookings for every day and show a flight in and out of China, you might manage to get a 90 day visa. If you need info's on that I can tell you more per mail. If you want to cross China try to get the most days as possible. Though I met cyclists who do the crossing in less than 60 days.