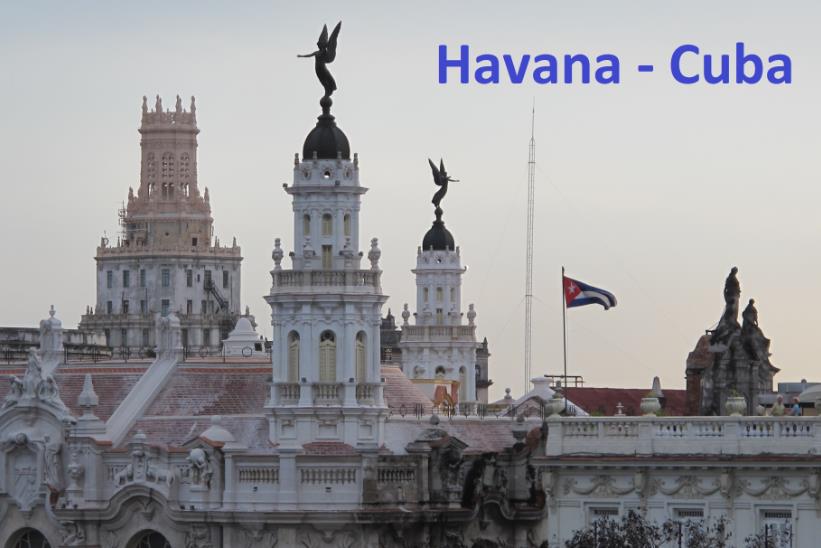 Beginning and end of my trip to Cuba is Havana. So let's start with a few impressions of the capitol city. With its more than 2 million inhabitants the city is the leading commercial and political centre of Cuba. I am located next to old Havana and wait for my friend Martin, who arrives from Sweden. Together we will cycle Cuba all the way!

Havana is a trip back in time and for me it's the first time cycling in a non-western country.  Everywhere you spot old American cars and the buildings, some of the really run down, witness from a time when the island was commercially booming. Everywhere you hear Cuban music, vendors try to selling their goods and you hear the cap drivers "Taxi, Taxi?" willing to give you a ride.
A few things I had to adjust. First of all they have two different currencies, the local money (peso national) and the tourist money (peso convertible = CUC). The currency is bind to the US dollar. One CUC is one USD. As a tourist you can withdraw only CUC on the ATM machine and I could only use my VISA card to get money. ATM cards and even MasterCard does not work!
How to get into the country?
Once you come to Cuba make sure you have the Cuba-tourist-card (must be stamped on the backside) before (!) you enter the country. You can get it in the Cuban embassies or some people bought it (25 USD) at the check in on the flight to Cuba. Then you can stay in Cuba for 30 days. We stay longer so we have to extend the visa for 30 days more. To do that, go to the bank first and buy 25 CUC stamps. Then you can get another visa at one of the immigration offices located in every tourist town all over the country. For leaving the country have also 25 CUC ready for the exit fee.
Cycling in Cuba
Once you are in, you can move around free and me and Martin felt very save all the time. Cycling wise Cuba can offer mostly good major roads, with not too much traffic all over the country. Cuban drivers are very aware of bicyclists and pass you carefully. The whole island is mostly flat so you can make progress easily.

Very tough climbing exists as well! If you want to go for it (climbs between 20 and 25%) I recommend the mountain road east of Cinfuegos (La Sierrita) to Topes de Collantes and then down to Trinidad. You won't be disappointed, I promise. Two other factors can make cycling hard as well: The heat (around 30°C) and the wind, coming mostly from east/north east. Streets are mostly inland. During the hurricane season some costal roads get harmed badly, that's why. But we find very nice stretches along the shore in the Bay of Pigs, with bathing and snorkelling opportunities, and along the south coast west and east of Santiago the Cuba. Also the mountains around Vignales were nice to cycle. Vignales is the centre of Tabaco. I visit a Tabaco farm there and hike through the area and through caves. Definitely worth a visit!
People and society
The most interesting about Cuba is the different system and society. For overnight stays we ask for a "casa particular" which are the B&Bs in this country. You stay at people's homes and get at least a little impression about the society and the daily life in Cuba. By the way, you get the best breakfast there!

We also experienced many different faces of Cuba. On a bicycle you get much closer to the people and realize your surrounding much more intense. For example we stay overnight in some of the towns south of Havana. There was not much tourist infrastructure. No casas, or hotels, no campismos … So what to do? We ask taxi drivers for places to stay and so we finally find "hotels" with no signs, just a doorbell. Everything looked a bit strange. No twin rooms, mirrors on the walls and roofs, pink curtains and beds who are desperately in the need of fresh sheets. The guy there asked me how long we want to stay and I told him one night is enough. "One night ok, but how many hours"; he wanted to know. Alright, finally we know what's going on. We pay for ten hours and the place was ours.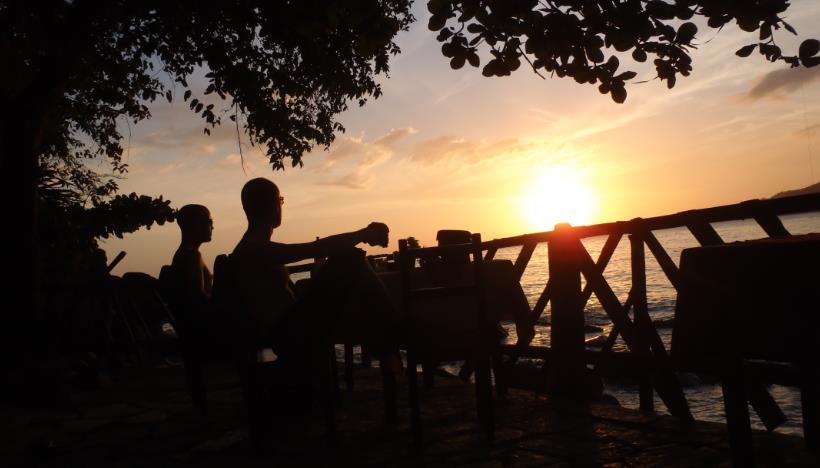 There was also the opposite though. We rented a bungalow in a socialist all inclusive beach resort to hang out for two days and get the laundry and the bike maintenance done.
I stay in Cuba for six weeks and cycle over 1900km across the whole island. It was enough time to explore the old towns, have a Cuba libre in the evening and smoke a lot of cigars.

Days travelled total: 176
Distance cycled total: 9812km (6067 miles)
Distance cycled in Cuba: 1915km