I hear a lot of positive things about Armenia from other cyclists which recently travelled the country. So I am eager to check it out by myself.

Entering Armenia by bicycle is only possible from the North or from the South. Borders to Turkey and Azerbaijan are out of historical reasons closed. So I cross the former Soviet Union border into Armenia from the south. First thing I realize was a Russian flag, set on half-mast. Everywhere Russians, still controlling this border. I remember that I have read, that also the Tajik border was controlled by Russian soldiers and they just handed over control to the local authorities in-between the last few years. The first soldier controls my passport, he speaks some German and greets me a bit old fashioned, like people did in the forties. My thoughts are: Let's just get away from the still highly guarded border river, find a place to change money and to stay save overnight.
The next day the weather clears up and Armenia is ready to be explored. The country felt like a mixture of Eastern Europe and my home Austria. It's very mountainous, especially southern Armenia. Let's say, you cycle the whole day and look at your speedometer in the afternoon and it says 30km done, you know you are in Armenia. With all the heavy load I am climbing up to 4 hours every day. Some roads are new, but some sections are still gravel. The cycling is pretty intense and demanding but everything else a real pleasure.
The country is full of surprises due to its long historical heritage. It has still a lot of wild nature and I find amazing spots for overnight camping. The people are discreet and respect your privacy but are very helpful once you exchange a few words. After a day of hard climbing I reach the small mountain village of Tatev. The place is known for its nearby built monastery out of the 9th century. I arrive late and enjoy a big dinner, it is getting dark and I still have no overnight stay. The owner of the restaurant offers me to camp behind the building and I am glad to have a spot. I set up camp and dead tired I get ready to fall asleep into my sleeping bag. But then good old grandpa is heaving his Saturday night chill out music disaster. A mixture of opera and Italian beat-music. It is so loud that even the local fauna is fleeing to the neighbouring valley. I ask how long this nightmare usually lasts and the people tell me, till midnight or one in the morning. No way I can stay here! I start packing everything again. The tent, the sleeping bag, all my gear gets ready for escaping. Fully packed and no idea where to go, the people from the dinner table ask me what I'm up to. I say no idea, need to find a place for the night. I cycled six to seven hours and need to rest. But this is impossible next to grandpa's private concert. So right away they offer me a spot on their holiday house couch. I accept happily and finally the odyssey comes to a good end and I enjoy a deep sleep.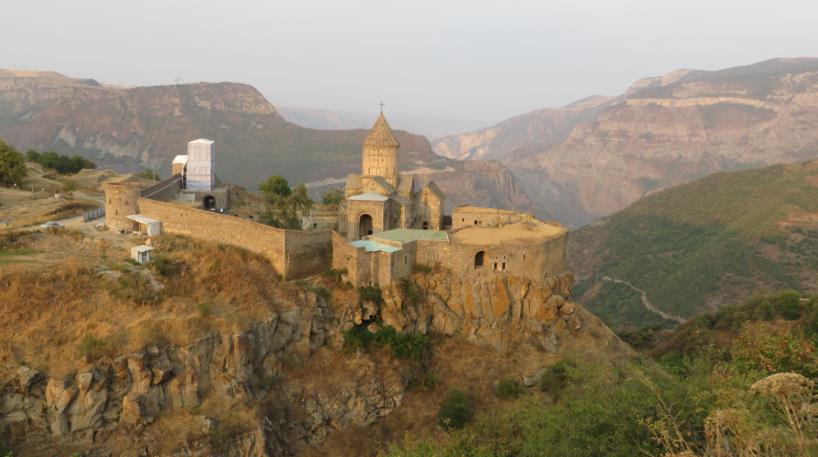 After a few days I reach the capitol city Yerevan. People say Yere"one" the number one city in the world. Ok it's not the best city in the world, but it has flair and a nice centre. With its cafes, restaurants and boulevards it's perfect for a few days of rest. Time is running and to be home before Christmas I head off north straight towards the Georgian border.