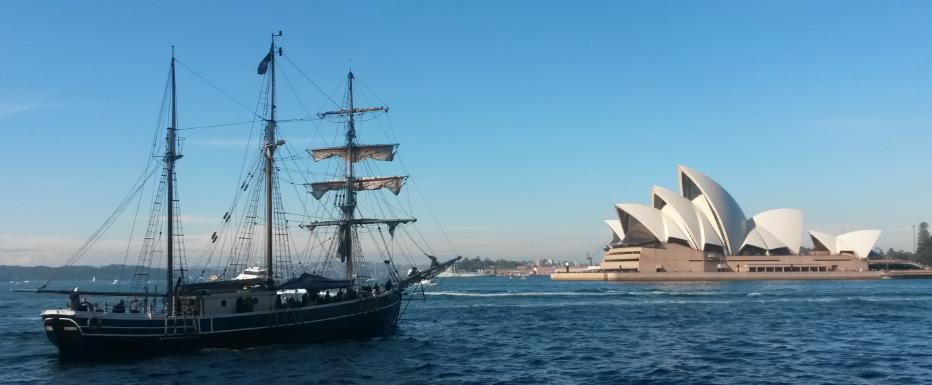 The Coast:
What a change coming to Australia after spending 7 months in Latin America. Pretty quick I had to realize that no one understood phrases like "un café por favor" or "chiero mas aqua…". Everything is clean, new and just perfect. Welcome back to the western world!
Culture shock, a bad hostel and cold and rainy weather made it hard for me to adept to the new situation and the new continent. Sydney was great to explore though. The naval museum (at least one time I visited a museum), the inner city, the harbour with the opera house and the observatory were only a few points of interests which I managed to see during my three day stay. Another night in a room with a couple of drinking Scottish soccer fans drove my finally out of Sydney. A nice way to leave the city is via the Manley ferry. It lets you exit town out of the harbour, with a spectacular few over to the opera house and the skyline. A few cold and rainy days followed with lots of traffic along the east coast. It was probably the first time in history, that an Austrian summer is warmer than an Australian winter. At home people suffered from the heat and I just wanted, after spending 4 months in the Andes, get out of the cold. But things go better and better the further north I go. After leaving Brisbane, the capitol of Queensland, the area is much less populated. Low traffic, more free camp options and after the last arctic chill a nice warm winter.
One thing I learned about Australia is to cycle around it in counter clockwise direction. It is wind wise the much better choice. Just make sure you go north in winter. So did also other cyclists and I enjoyed some good company on the way. Australia is very easy going, people are helpful and friendly. Best example are the so called "grey nomads". These are mostly retired people driving big mobile homes around. As a cyclist you are advised to be nice to them. Once you are on a 200 km stretch with no water support and no restaurant they help you out with supplies. Sometimes I got even invited for a beer or dinner. Once you hit one of the small towns along the highway you are usually ready for a bed. But accommodation is expensive here. So I tried to give Warmshowers.org a chance. Warmshowers is an internet platform which brings touring cyclists and hosts together. It's easy to register and navigate. I heard about it a few times in South America already, but always hesitated to use it. Finally here in Australia I joined and did not regret it at all. The best thing is to meet friendly and world open locals who know about the needs of a touring cyclist. Most people realize, that you arrive tired and dirty and just want to rest and relax. So usually no one is forcing you to do weird things, like going to a zoo or to a child's birthday party or some other strange stuff.
Progress was good and cycling easy. After reaching Townsville I went inland on a long stretch 900km west to the next promising oasis called Mt. Isa, right in the middle of the so called "outback" …

The Outback:
Somehow, relaxed and happy, I managed to leave Mt. Isa, the last oasis on a long stretch through the outback. Cycling over the Barkly tablelands means pedalling straight and long. There was a long stretch with no support options for about 270km between Camooweal and the Barkly homestead roadhouse. A roadhouse is a combination of a gas station, a restaurant, a shop and a campsite or hotel. Prices are extremely high there and the quality of food is sometimes pretty low. After cycling straight for a few weeks and about 1540km away from Townsville the first real turn showed up. Taking a right on the Stuart Highway will bring me to Darwin one day. But the only shopping option leis 700km north in a town called Kathrine. So instead of going north I had to take a 50k detour south to Tennant Creek to load up food and supplies. This was the first time I was maybe overdoing it a little with the shopping. I was loaded like a road train after that stop! Some of my food got eaten by small yellow ants. Those beasts invaded my tent one night. But that wasn't my worst night in the bush. An upcoming storm made me hear all bells ringing. I can definitely not recommend camping outside in an Australian bush thunderstorm. Other than that I made good progress end finally ended at the Mataranka hot springs for 3 nights swimming, camping and relaxing.
Fit again for the last stretch I cycled up to Kathrine and stayed at an Aussi-family's place. They just had a now born arriving 2 weeks ago and were busy with lots of stuff, but sheltering a world cyclist "… no problem". Another example for the welcoming and open minded Australian way.
I only had a week left and pushed it up north to Darwin. It got hot, hotter, double hot! Especially over midday it was very hard to cycle. The only refreshment: A sip of nice almost boiling hot water. I shifted to "desert schedule" again and stood up very early and pushed before noon to cover the distance. Hiding in the shade together with 200 flies was not comfortable either. It's best to get the cycling done in one.
The last two days I am preparing for this trips hopefully the last flight to Singapore.
Thanks Australia for a good time!
cycled in Australia: 5353km
cycled total: 20092km