22.08. Hemra – Hólaskjól (32km, 4:08h)
I start a little earlier than Martin, which is already part of our daily routine, and ride north. The wind was extremely strong and cold, I wear all my clothing and slowly I make progress. The most important thing is not aiming to high on that day. Already the day before we decided to not go all the way to Landmannalaugar in one piece. So how ever slow I make progress on that day (average speed 7,5km/h), I knew we will be at the camp site in Hólaskjól in the afternoon.
Martin did not show up, usually he is passing me at about noon, but this time he was not around. A Spanish guy stopped and told me that one of his gear cables broke down and he has only a few gears to ride left. We communicate by stopping cars, and giving massages to the other rider so we had the appointment to meet again in Hólaskjól. I carried on and reached the campsite in the early afternoon. The scenery is again fantastic meandering rivers and glaciers. In the morning we left riding through pasture land which turned later on in the typical black inland ash desert but this time covered with light green moos. The play of colours was fantastic.
Finally Martin arrives, which was the first time I had to wait for him, telling me about his wire problem. He fixed it pretty quick and by the way he also fixed my bike. The handle bar had a little play and there was a screw missing on the carrier. I told him still ok for the next 50 000 km but somehow Martin was not in my opinion. Later on we hiked up to the waterfall which is 10 min from the campsite, took a few nice pictures and went to bed, another cold night in Iceland.
The route:
To go into Landmannalaugar you start on the 208 which turns into F 208. F always means highland runway so its not paved. 208 is also gravel but once you see the sign F 208 prepare for climbing and bad road surface. The stretch from Hemra to Landmannalaugar should be divided into two sections (2 days), especially if you have luggage, if you had riding days before and the weather is bad.
23.08. Hólaskjól – Landmannalaugar (46km, 4:56h)
The best riding day!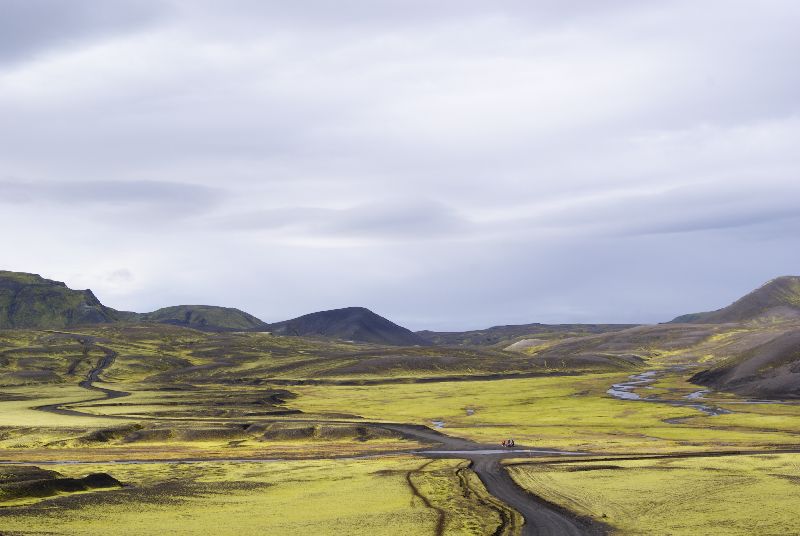 What a day super tough sometimes but rewarding in so many ways. The F 802 is a permanent change of climbing and going down, of good surface and loos gravel and crossing rivers as well. Some rivers you can just ride through (or not) and some you have to make the "shoes off" manoeuvre and push the bike through the water. By the way it is very important that you have waterproofed bags.
Count on some time for the river crossings, there are about 15 to 20 of them. We started at 09:30 am and arrived at 08:00 pm at the camp site in Landmannalaugar. I think we had 4 lunch stops that day (a thing I learned from Martin, to eat before your body is telling you that you are hungry!)  and after a crusade to the local "take what you need/leave what you don't need"- point we cook cous cous with vegetables. We also found some sugar, and after a super sweet cup of tea we go for a swim in the famous Landmannalaugar hot river.
The route:
As mentioned already above lots of small and big river crossings and sometimes bad surface on the F 208. Coming from Hólaskjól at the first river crossing you can use the bridge for the hikers if you push your bike a little further up the river. I recommend to do so because the first river is probably the deepest of the whole day.
24.08. Landmannalaugar – Lodge near Hekla (57km, 4:20h)
It was freezing cold that night. I was wearing my thermo jacket and the cycling pants, so I finally managed it to stay warm in my sleeping bag. We start late and ride out of Landmannalaugar taking the F 225. Again nice nature but not as nice as yesterday. We ride through the ash desert surrounding the Hekla volcano and once on street 26 we stop at the first campsite. We cook our last food and call it a day.
The route:
The F 225 was partly covered with sand and with my thin road tires I crashed two times. Luckily nothing happened, for this road you better have thicker tires. On the 26 you are back to civilization, its still gravel but only for a few kilometres.
25.08. Lodge near Hekla – Heimaey (Westman Islands); (98km, 4:37h)
After coming out of Landmannalaugar I felt like, we made it around Iceland. Lets go back to Keflavík and take it easy on good roads. Our plan was to rid together to Þorlákshöfn (Thorlákshöfn) and take a ferry down to the Westman Islands (Vestmannaeyjar). The Islands are called so because people from the west (Ireland) settled there first. The islands are supposed to be very interesting and a wonderful sight to see at the end of our trip. During a lunch break we got the information that the ferry doesn't leave from Þorlákshöfn anymore. They built a new road and you can go to the Westman Islands much faster if you take the new ferry near Bakki. For us this means we have to cycle fast another 50km against the wind to get the afternoon ferry down to Heimaey. We cycled down there but it was to much for me then, the islands were nice but I was exhausted. I had no good food, puked during the night and knew that the next day will be a rest day for sure.
The route:
The road 26 and the ring road were well paved, no climbs, all flat and easy. To reach the port to go to the Heimaey ferry you need to go east on the ring road and take a right approximately 20 km east of Hvolsvöllur.
26.08. Heimaey – Hveragerði (6 km)
This night was not my best, I felt very bad. In the morning, after two Coca Cola, I was more or less ok again. I did a little sightseeing in Heimaey which was partly destroyed by a volcanic eruption in 1973. A few houses got completely covered with ash and lava, that's why they call it the "Pompeii of the north". I went for a pizza to help my stomach to recover. The pizza looked good but, what's that? They covered it with potato chips! In Italy they would kill you for that. Definitely not my day.
Martin and I meat at the ferry said good by (another time) and I took the bus to Hveragerði. I stayed on the nice campsite there and made planes for cycling the last two days back to Keflavík.
27.08. Hveragerði – Seltun (Krýsuvík); (63km, 5:11h)
My stomach is still not back to normal but after a finally big breakfast I took off. I force myself to eat and it's slowly getting better during the day. Again head wind and sometimes so cold that I have to wear my gloves and the hood of my gore jacket. At night I found the Sulphur springs and hot springs at Seltun and pushing the bike uphill a little, I found a very nice spot to free camp. I cooked and enjoyed the sunset, I was completely alone and thought back about my vacation in Iceland, the people I met and the places I have seen.
Tomorrow it will be my last riding day in Iceland and I am looking forward to a nice and warm autumn in Tirol. Of course not knowing that I will work tour guiding till the end of November by that time.
The route:
I followed road Nr. 38 out of Hveragerði down to Þorlákshöfn. In Þorlákshöfn they built a new road along the shoreline over to Strandarkirkja (Nr 427). I think they plane to pave and rebuild the road till Grindavik, but it's not finished so far. The stretch from Þorlákshöfn to Grindavik is very nice. You should go there if you want to cycle around Iceland and see the south first. You get a good over few what's to come, road (from washboard to pavement) and landscape wise.
28.08. Seltun (Krýsuvík) – Keflavík (52km, 4:20h)
It took me a while to get motivated for the last day, enough of cycling I thought, but still a full day to go. The road down south is not the best but after Grindavik it turned better and 15km further north I turn left on the street 41 Martin and I took on our first riding day.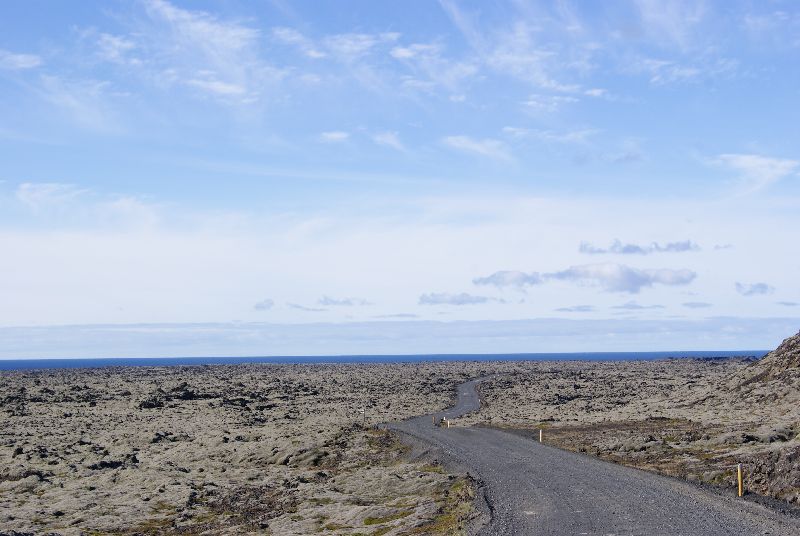 You ride through lava fields and have the ocean next to you, but I had no patience for this anymore and I just wanted to reach Keflavík and take a rest.
The route:
Before you come to Grindavik you have to climb up one more time (427), from that point on you are out of gravel and just cycle on north back to Keflavík.
29.08. Keflavík
My last day in Iceland and I was busy checking everything for the flight back to Austria. I met Martin again, he was faster than planed and has one more day here to wait for his flight. I get my cycling box back and check my flight and airport transfer. I met the French guy from Öxi pass and we all talk and exchange our experiences.
For me it was the longest cycling trip I ever did so far and in this environment I learned a lot. The most important thing is your body and your psychological condition. How to react if you are exhausted and how to act to stay fit for cycling over days and days. I experienced a lot on my own but also learned from other bikers and especially from Martin who did so many trips before already.
Also your gear is from great importance, I will invest more in lighter (the pump) and smaller equipment. Also cycling specific clothing is important to have. On the long trips I would say go for the best stuff sold on the market!
Cycling in Iceland was great, rewarding you for the great efforts in many ways. Its probably not the country to start with but if you have done a few tours already don't miss it. I had a great time and will always have good memories thinking back of August 2010 in Iceland!