04.08. Blönduós – Varmahlíð (55km)
Good wind in the morning pushes us inland and we are riding fast and making progress. But then we need to slow down an other 400m climb is waiting. On the other side we ride down to Varmahlíð trough heavy rain showers till we find the campsite. There is a hot swimming pool in Varmahlíð and we chill out and stretch our muscles. Tomorrow we have another long route to come and we relax and go to bed early.
The route:
We ride again on the well paved Ring Road.
05.08. Varmahlíð – Akureyri (100km)
A long day but we made good progress. We had to climb on 500m again but it wasn't too hard. Riding down the pass the other side we experienced the typical Iceland headwind the first time and than in Akureyri we had to climb up to the campsite, which made us completely freak out. Yelling and joking we were fighting uphill. The police would have arrested us right away, but luckily only a few tourists and locals were near bye. At night we went down to Akureyri for dinner. After checking every restaurant we found a place which was ok for both of us and martin ordered pizza cycling style. I didn't so ordering the of course cheaper baby pizza, which made me real hungry, ended in a "ordering more food spending lots of money" disaster. An nice example for how to save money on the wrong side. But as the Iceland commercials say, Iceland a trip to your self! So all in all a very funny day.
The route:
More traffic than expected especially coming into Akureyri (Ring Road).
06.08. Akureyri – Vaglaskógur (34km)
It takes a while to get into gear again and we start very lat from Akureyri. Akureyri is the support centre of the north and we go for shopping and checking mails (ask for the library) . Riding out of  town we met a group of English bikers and they inform us about a alternative rout trough the mountains leading us east. We take that option and are happy to leave the Ring Road behind us for a day. We end up in Vaglaskógur the longest forest of Iceland and stay at a very nice campsite in the wood.
The route:
We left Akureyri on the Ring Road and took a right on 829 and after a few meters on 828. 828 climbs up and leads to 832 which takes us to the other side of the mountain. Street 832 is gravel but easy to ride and with wonderful few over Akureyri, the Eyjafjörður and the longest forest of Iceland at Vaglaskógur.
07.08. Vaglaskógur – Húsavík (74km)
After riding a few kilometres I had no more air in my rear tube and we had to change it, after this little incident we went on to the Goðafoss waterfall. We stayed a while and then we took off to Húsavík. I arrived late, Martin was already there and after a little shopping we decided to go whale watching by taking the evening boat.

A very good decision, the weather was perfect and we spotted dolphins first and afterwards a few mink whales. We had fantastic few and on the horizon we could spot Grimsey a small island belonging to Iceland laying at the arctic circle.
The route:
Again we were riding on the ring road and later we turned north on the well paved 845 to Húsavík. Not much traffic on the 845.
08.08. Húsavík – Ásbyrgi (65km)
Perfect weather today so we are looking forward to a great cycling day. After the shopping in Húsavík was done we took off north. The few on the Skjálfandi (the bay where we went whale whatching – hunting whales is forbidden there) was amazing, the sun was out and I could rid with short sleeves. After lunch we got passed from Fabian, a guy from Südtirol, who was on his way to the northernmost point on the mainland of Iceland. We were riding together and with the upcoming wind, this was a good idea. I now realized that cycling is a team sport and together (of course Martin mostly in the front) we challenged the wind and made it to Ásbyrgi celebrating our cycling day with the biggest burger available.
Fabian took of north and Martin and I decided to stay in Ásbyrgi and go for a little hike in the Jökulsárgljúfur National Park. If you are a hiker you should check out the two days hike from Ásbyrgi down to the Dettifoss waterfalls. We met Jurin and Alma from Dresden and they were up to going down there. I met them again a few times later during my vacation and they say its absolutely worth it hiking in the Jökulsárgljúfur National Park.
Of course I could not cycle down there so Martin and I went to see the Asbergi cliffs near the Campsite.
The route:
We continued on the 85 which is paved and very nice to ride. Not much climbing and as well not much traffic.
09.08. Rest day Ásbyrgi (4km)
I needed a rest day, the riding against the wind and the distances were hard the last days. So we stayed and spent the day with washing, cooking and sleeping.
10.08. Ásbyrgi – Dettifoss (39km)
Martin and I start together from the campsite riding the F862 south. We decided to split up, Martin wanted to ride more inland and I wanted to cycle on to Egilsstaðir. At this time we didn't know that we would split up four times, the last time on the campsite in Keflavík once my flight left back to Munich. I followed his track on the sand down to Dettifoss where I stayed overnight. You can free camp north of the parking, also the bus stops here for taking the hikers.
At night I did a little hike to the waterfalls. The waterfalls are in a canyon surrounded by a stone desert. The atmosphere was completely different than up north on the coast line. The first time I realized that Iceland is a completely desolate and scraggy once you go inland. Volcano ash desert with not much vegetation.
Then I faced the power of nature by watching the Dettifoss waterfall. The waterfall is a must to visit. Already left, I had to turn around to watch it again. Watch the pictures and imagine standing close to this spectacle of nature!
The route:
F862 was the toughest gravel road I did so far in Iceland. Sand, gravel and washboard road surface, but still manageable. Especially the section down to the waterfall is hard to ride.
11.08. Dettifoss – Reykjahlíð (52km, 4:13h)
I cycle the last kilometres on F862 down to the Ring Road and continue west, direction Mývatn. From the far I could already spot the volcano active spots around the Mývatn and Katla region. The typical sulphur smell, steam out of the ground and the colourful stones are the signs of the volcanic activity around the lake. One last climb and then down to the campsite at Reykjahlíð. I meet Jurin and Alma again, the couple from Saxony and surprise Martin is also around. He had a nice day around the Mývatn visiting Mt Hverfjall (a gigantic tephra crater or Tuff Ring), Dimmuborgir an area formed by lava tubes and lots more. We decide to go to the Mývatn nature baths (similar to the famous blue lagoon) and we had a nice evening talking about travelling the world by bicycle.
The route:
Coming from Dettifoss the F862 is like it was all the way from Ásbyrgi. There are road constructions going on from the ring road up to the Dettifoss, so in the next years you might find a new road there.
12.08. Loop around Mývatn (49km, 3:07h)
Due to Martins recommendation I decided to stay one day and explore the area around the Mývatn. There are several nature highlights, you should check out the tourist information in Reykjahlíð. If you don't have a bike you can also rent one for the day in Reykjahlíð.


Jurin and I hike to the Mt Hverfjall and I surround the whole crater, then by bike over to Dimmuborgir for lunch with Martin (check out the trout with potatoes and whole-grain bread) and in the afternoon a nice ride around Mývatn with checking out the volcanic structures in the area. A busy day!
And, again, another good bye to Martin. He will take off to Askja in the central highlands of Iceland and I will go on to Egilsstaðir.

The route:
Around the Mývatn you go on the Ring Road, the 848 and the 87. All paved, nice to ride and only some traffic on the RR. Often you need to speed up to escape the attack of the flies. Having a nice break and pick nick along the shore, forget it.
13.08. Reykjahlíð – Möðrudalur (74km, 5:02)
This day I start early and ride east, parts of the road I already know, hoping for good conditions for a long riding day. But soon rain sets in and after a while also the wind. At noon I stop for lunch hiding myself in a small ditch preparing food and hot chocolate to stay more or less motivated. The weather stays bad and I ride through volcanic stone and ash desert further north to the turnoff of road 901 to Möðrudalur. I decide to call it a day and stay overnight. Möðrudalur is a very nice campsite and I really recommend staying there. The hole place is just a few houses and some of them are out of peat (turf) so you get an idea how houses in Iceland looked like centuries ago.
The route:
The day started with a little climb east of Reykjahlíð, aft wards it's mostly flat till Grimsstaðir. Than a bit climbing again to the turnoff of road 901, which is a good gravel road to ride on.
14.08. Möðrudalur – Egilsstaðir (95km, 6:48h)
Before noon I had one of the nicest sections on my whole trip so far. The 901 is a great alternative to the Ring Road (Nr. 1) further north. The road is gravel but ok, it climbs a little more but the scenery is fantastic! You can look far south and overlook the area from Askja to the 1833m high Snæfell with its glacier field.
I fight up a pass trough ash coloured desert and no one's around. Almost reaching the top two busses came unloading a big group of Dutch tourists. They were clapping their hands, cheering me and taking pictures. This place wasn't that remote, I said to myself.
I went further on and hitting Nr.1 again no more climbing, the street goes down. But then, in this Jökuldalur the wind was blowing so strong from the east that I had to cycle real hard to go downwards. It was cold and flurry and this made me cursing and shouting (luckily no one was around). I needed to stop and had 2 big Icelandic cakes in Skjöldólfsstaðir a small gas station on the Ring Road. I waited up to two hours till I continued cycling and the wind wasn't that strong anymore. I took the gravel road (924) instead of the RR and in the evening I went into Egilsstaðir. What a tough day.
Short before coming into Egilsstaðir I saw a Brazilian guy again which Martin and I already met in Keflavík . He was a funny muscle packed cyclist who told us to ride all around the highland twice. He said: "Riding in Iceland is no problem its bright all the time anyway". Martin and I often made fun about this, meeting him again riding day and night with no break becoming Iceland already. But once I met him he was in pretty good shape and he changed, like lots of cyclists do up here, his plans as well.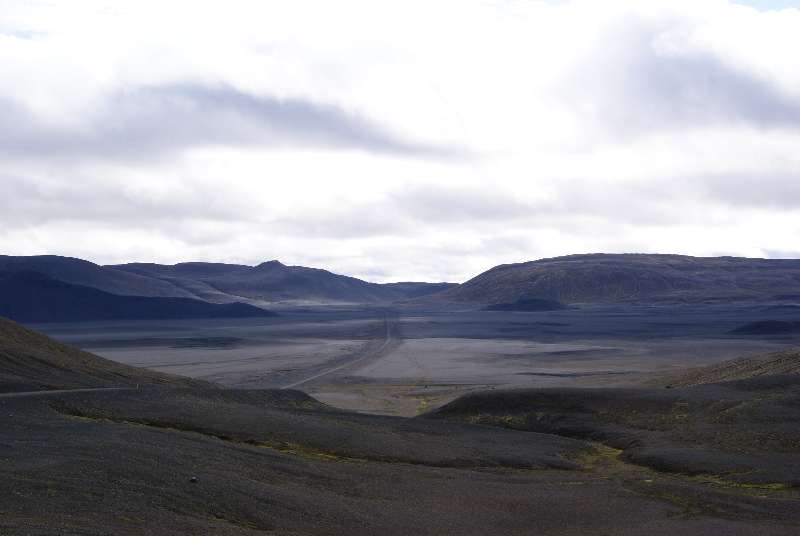 The route:
As I said before the 901 is a great alternative to the RR. No traffic there and a stunning scenery. Coming further east you can parallel the RR again by taking the 924 well packed gravel road, which is also a no traffic alternative. Egilsstaðir is the support centre of the east and they have good opportunities to buy groceries and go shopping. Its only a small community with about 3700 people living there. The campsite is not my favourite but close to town centre and ok to stay overnight.
–> continue reading Chapter 3: "The East and Southeast"