15.08. Egilsstaðir  – Grófargerði (22km, 2:12h)
697km back to Reykjavík the sign when leaving Egilsstaðir tells you. For me it was a feeling like turning around, being half way!
Out of Egilsstaðir again strong wind, this time from the west, it gave me a hard time. After one hour of riding the wind got so strong, that it made no sense anymore to fight against it. Completely exhausted I stopped, eat something and hided in a small wood next to the street. It started raining and so I decided to set up my tent, to rest a bit and maybe in the afternoon continue with cycling. The rain stopped and I went on. Once everything was packed the wind started to blow again. I passed by a campsite and thought to myself I won't stop here after 22 kilometres. No I will go on!
A hundred meters later I changed my planes turned around, set up my tent (again) and called it a day. What a tough day, I slept the whole afternoon and the following night. I needed this break much more than I thought.
The route:
West of Egilsstaðir you are riding on the Ring road, well paved and nice scenery.
16.08. Grófargerði – Djúpivogur (70km, 6:20h)
The locals running the campsite, by the way a very nice one with little cabins as well, told me that the wind is normally not that a big deal. In the morning it started blowing again but not as strong as the day before. Due to maintenance on the ring road and rain it first was a ride through mud and gravel. The road turned better and the more you climb up the valley the better it gets. In the upper section you have two options for going on. There is the longer one riding out to the east fjords on the ring road. The other shorter option is going further south on 939 climbing up the Öxi pass. Fighting up Öxi Pass I met a French cyclist (which I met again a little thinner on my last day at camping Alex in Keflavík) who gave me the hint to go to Djúpivogur and stay on the campsite. I decided to follow his advice and Djúpivogur is really a nice place. Little Houses in different colours, a small and very nice harbour and on the campsite you can overlook the whole town and the sea over to the other side of the fjord. If you ever visit the East Fjords don't miss Djúpivogur.
The route:
The ring road is not always paved west of Egilsstaðir and the 939 up to the Öxi pass is gravel too. Coming from north the road climbs slowly up to the pass, if you are planning to come from the south count on a very hard riding day!
17.08. Djúpivogur – Höfn í Hornafirði (109km, 6:38h)
What a great riding day! This paid off for the hard time around Egilsstaðir. In the morning I was leaving the East Fjords it was foggy and the sun was greeting through sometimes. It was beautiful along the shore side. On the left hand side I had the ocean and on my right there were the mountains and glaciers.  I made good progress and after 109km I reached Höfn and spotted the Vatnajökull the first time in my life. After setting up my tent I went for a swim in the local hot pool.
The route:
The road is well paved, there is not much traffic, so cycling at its best!
18.08. Höfn í Hornafirði (6km)
Nice surprise!
First I planed to cycle on but then, after 2 hours internet (in the library next to the shopping mall) and an other second breakfast I met the Swedish guy again. So Martin and I had to talk about what happened the last days. He went inland to Askja and made it a little later to Egilsstaðir. A few coffees and cakes later I decided to stay in Höfen for one more day, join Martin for a swim and go for pizza and beer to avoid an other N1 burger. The weather forecast for tomorrow is nice and we decide (again) to cycle together.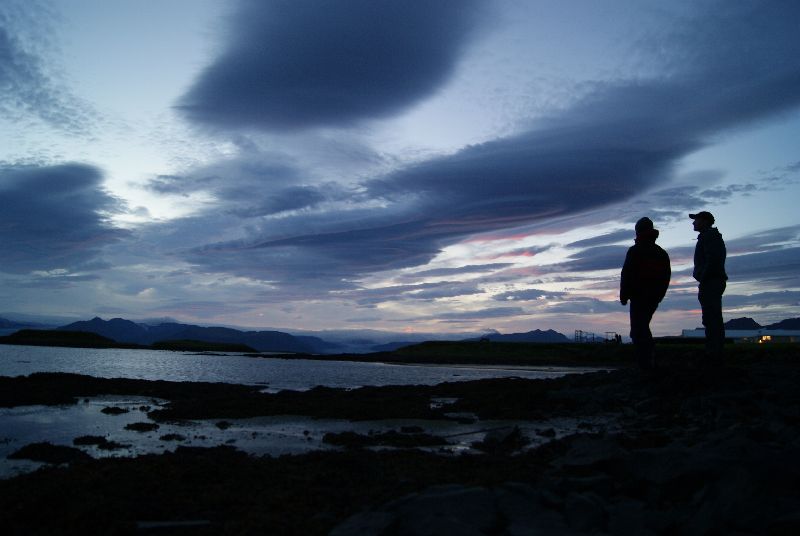 19.08. Höfn í Hornafirði – Kálfafellstaður (63km, 3:40h)
We had one of our typical early- late- starts and after hanging out at the bakery we left Höfn to the north. Strong wind but we made it. Martin fighting in the front and I followed him on his rear tire as close as possible. Riding in a team is much better than going alone especially under heavy wind conditions and especially if Martin not me, is in the front. After a few kilometres the road turned south west and now we go for it! We decide not to go to Jökulsárlón (a glacier lagoon next to the Breiðamerkurjökull) because of bad weather so we ride back and stop at a youth hostel near Kálfafellstaður. A nice place to stay overnight where you can also camp and use the kitchen and facilities.
The route:
In the south of Iceland there is only one road to go, which is of course the ring road. Again well paved and also not much traffic. It's flat as well and if you are lucky with the wind you can make good progress. There is much more going up and down in the north than down south so take it into account if you decide to ride around Iceland if you want the flat part or the hills first. I would check out the weather forecast first and then decide what to do.
20.08. Kálfafellstaður – Skaftafell (86km, 3:59h)
In the morning we start and continue on the way to Jökulsárlón. It's a big lake where ice parts from the Breiðamerkurjökull are swimming in. We meet Doris and Werner from Austria and ride together to the famous Skaftafell National Park.
We were lucky with the wind and we ware racing down south (up to 50km/h). Poor cyclists who came from the south I almost got a bad conscience. In Skaftafell, the campsite is big and not my favourite, we four went on an two hours evening hike. First we planed on a rest day here but hiking up to the waterfall and then west to the Skaftafellsjökull glacier gave us already a nice overview of this place.  Nature rewarded us and completely alone up there in the mountains we enjoy a wonderful long sunset. Its already dark when we come back to our tents, we cook something and then hide from the cold in our sleeping bags.
21.08. Skaftafell – Hemra (105km, 5:22h)
Werner and Doris take the bus to Landmannalaugar and take off early in the morning. Martin and I start as well and we decide to follow them into Landmannalaugar. For them it's a few hours drive, for us a 3 days of tough cycling to go there. We already heard stories about the F 208 going to Landmannalaugar, hard climbing, river crossings and rough road conditions. But so far we did not know that these stories were all true. We race further south on the ring road and our new friend the wind helped us to keep up a good pace.
The route:
After riding on the ring road we took off north on the 208 and found a abundant campsite near Hemra. The 208 is still in good conditions, it turns into the F 208 to Landmannalaugar which we will take the next 2 upcoming days.
–> continue reading Chapter 4: "The South"